Prada and the Office for Metropolitan Architecture (OMA) have a strong and extensive history of collaborating on all levels of designs. Over the years, Miuccia Prada and Rem Koolhaas, the founder of OMA, have teamed up to design everything from worldwide retail stores to runway sets. The architecture firm has even designed the Prada webpage. Nothing is more exciting than the marriage between two art forms, and it is particularly endearing between fashion and architecture - two worlds that appear to be on opposite ends of the spectrum - fashion delicate, architecture rigid. Prada + OMA offer the perfect compromise. Here is a small sampling of their teamwork - so impressive.
OMA Prada Catwalk Designs
In his work on The Art of Building in Ten Books, Leon Battista Alberti asks the following question: "If the city is like some large house and the house in turn like some small city, cannot the varied parts of the house.. be considered miniature buildings?"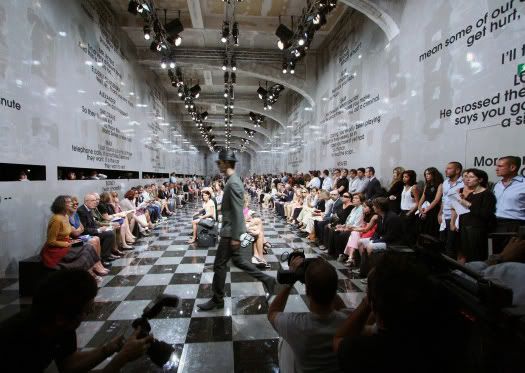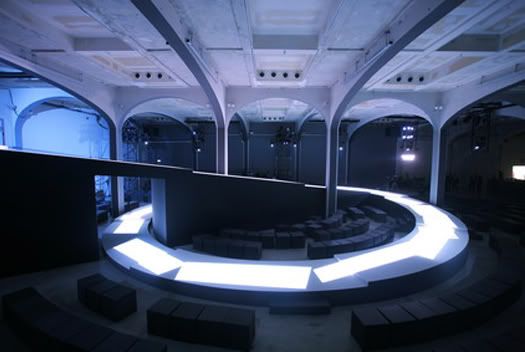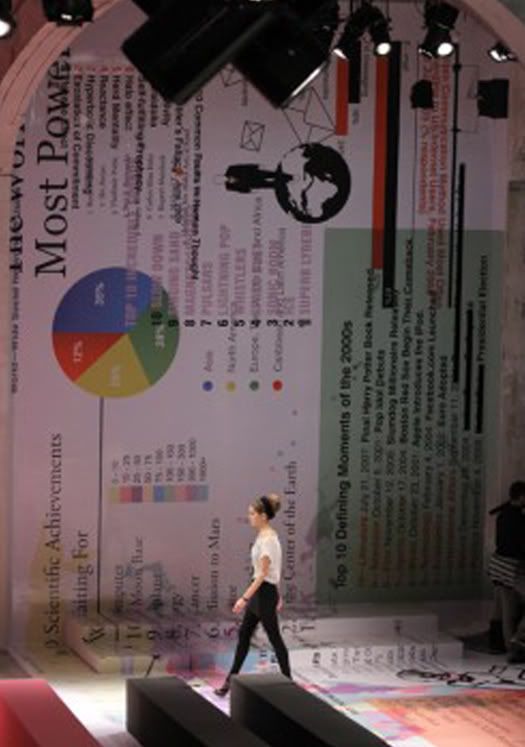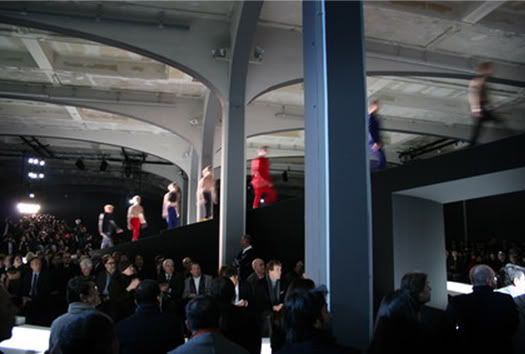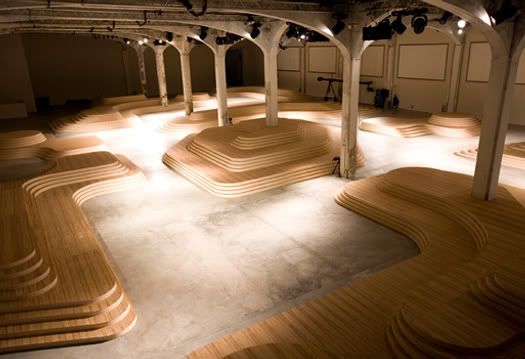 It is often said that Miuccia Prada makes clothes not for women's bodies, but for their brains. I applaud this notion and her investigation into other facets of art and inserting them into her collections. Along with architecture, Mrs. Prada has a deep-rooted love for the contemporary arts. The Fondazione Prada is an intervention on and transformation of an early 20th century industrial site just south of Milan that creates new experimental spaces for the Prada Art Foundation.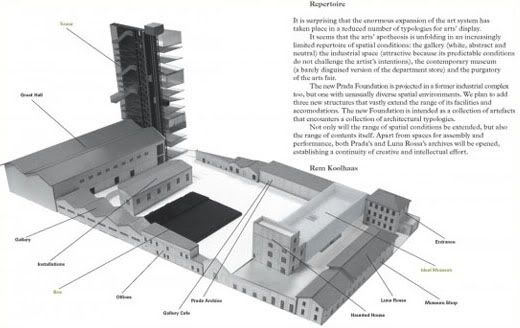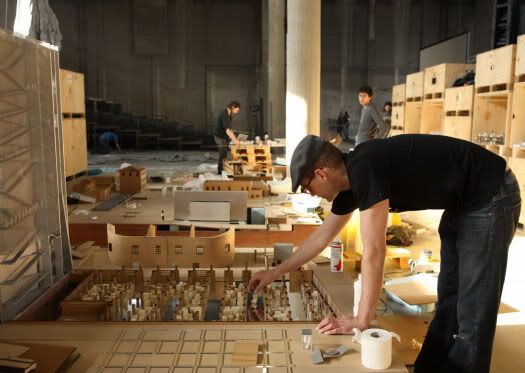 Prada JWP Epicenter Collection
The souvenir t-shirt collection literally merges fashion with architecture by featuring floor plans, sections and facades of the brand's flagship stores around the world.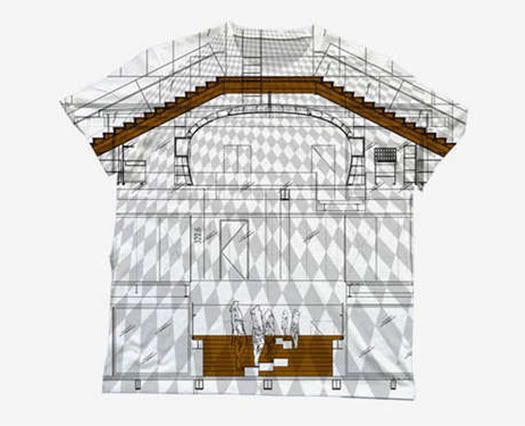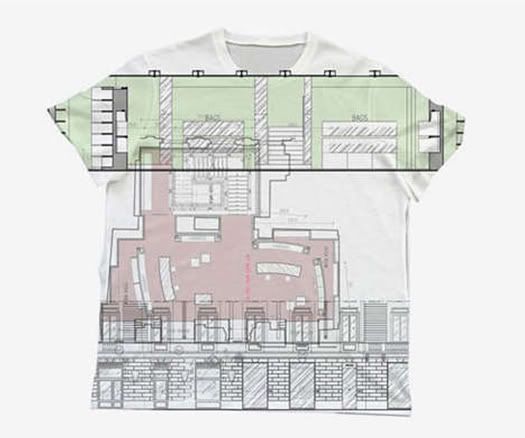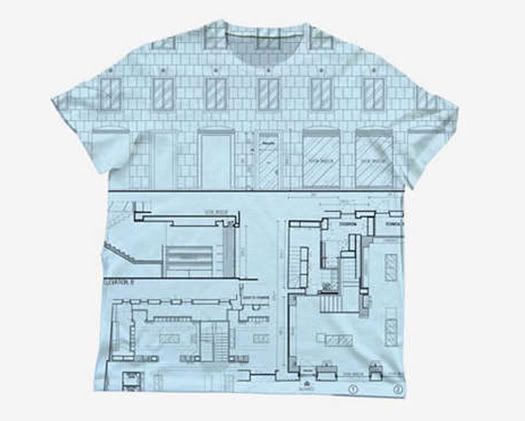 The Prada Transformer
The Prada Transformer is nestled beside the 16th-century Gyeonghui Palace in Seoul, South Korea. The pavillion consists of four basic geometric shapes - a circle, a cross, a hexagon and a rectangle - all leaning together and wrapped in a translucent membrane. OMA has pioneered a temporary structure that is picked up by cranes and rotated to accommodate a variety of cultural events. Each has a designated shape that is the potential floor plan for that event.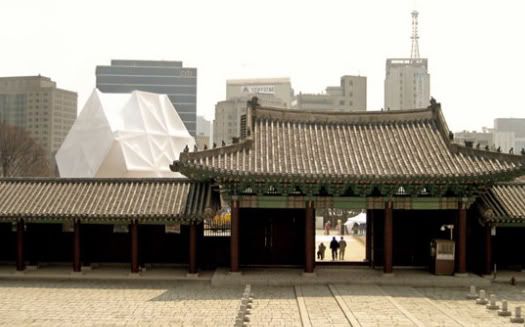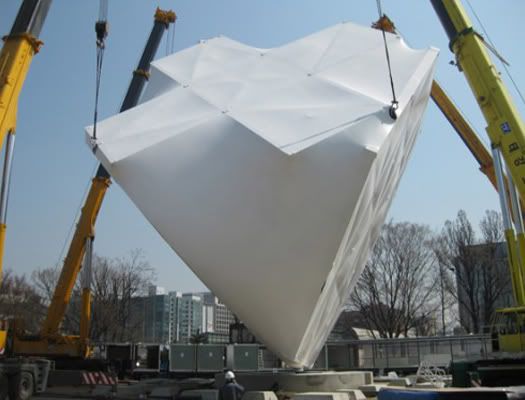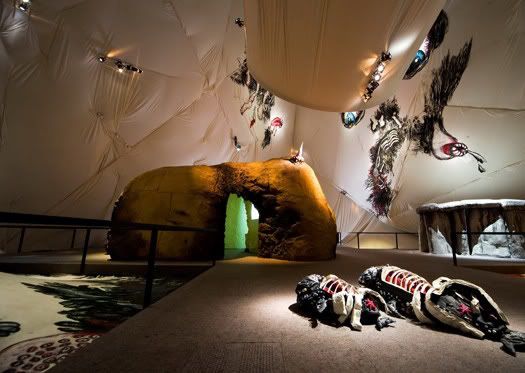 New York's Prada Epicenter
The Soho store is a revolutionary concept in retail space and what they are most famous for in the fashion world. The epicenter - an exclusive boutique, a public space, a gallery, a performance space, a laboratory - is part of OMA*AMO's ongoing research into shopping and a strategy to counteract and destabilize any received notion of what Prada is, does, or will become.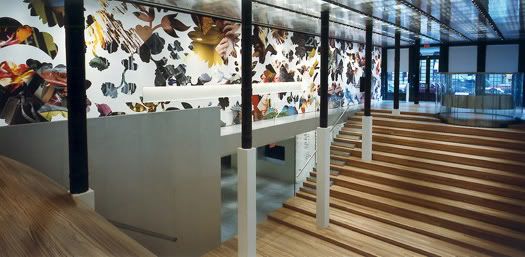 images: oma, tfs