Lately I've been all work and no play. You guys are probably sick of me apologizing for the lack of posts, but I don't know how some of you can keep generating so many while juggling life! Kudos to you all - seriously - I'm jealous! Teach me!! lol Most days, by the time I make it home, the sun has long since retired and I break into routine - cook, shower, book, then bed.
Whomp whommmp.
This past week I've been getting home earlier than usual and thought I should blog what I wear to the office from time to time. Here are two outfits from the week (
What is
interesting is how completely different I look in the two outfits - which to me shows that clothing really is an experience, that what you wear is in direct relation with how you feel.)
: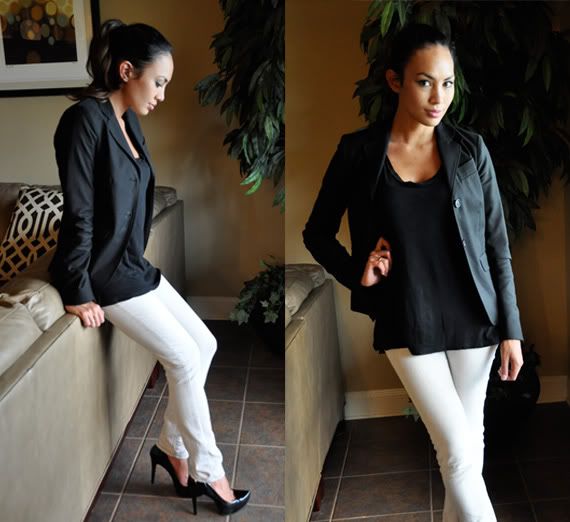 (French Connection Blazer, Silence + Noise tee, BDG grey skinny jeans, Aldo Pumps)
(New Zealand scarf, F21 blouse, Zara pants, Marc Jacobs watch, Aldo Pumps)
1.) My birthday was August 13th + Aaron's was the 12th. We celebrated with our closest friends and it was an amazing night! I wore blue from head-to-toe.
3.) Although my life has become some what of a routine, I do enjoy coming home after work to cook dinner. In fact, I really look forward to it, and I have become quite the chef
these days (see my nye resolution). I made my first Gumbo and Jambalaya the other week. I should share recipes.
4.) My house has been on the market since I graduated. I'm trying to sell by owner which can be tricky to market, so it has been a bit slow. Although, I'm not in a particular rush to sell. The big news about that is that I will be designing my next house myself! I will keep you all posted on those updates. :))